Reviews
Find and read inside stories from users like you!
Customer Reviews
Write a Review
Ask a Question
11/03/2020
Ralph V.
United States
S2 Shutter Release Cable
I'm not sure why I was asked to review this cable - it's a cable for the Sony A992. I put it between the camera and the Edelkrone Slider motor or the camera and the Edelkrone Head Plus. It works just fine. It is a shorter cable than most of your intervalometer cables but that is intentional - it easily bridges the longest gap you can configure - between the slider motor and the camera - without drooping and getting caught in anything. Well thought out but, after all, just a cable.
10/24/2020
kim j.
South Korea
Dyma'r gorau
Rwy'n fodlon â'r saethu
LS
10/22/2020
Lisa S.
Australia
S2 Shutter Release Cable
Works great and is easy attach.
09/29/2020
James K.
United States
I got the wrong cable
Meh, I ordered the wrong cable. My fault.
08/27/2020
Rhys H.
United States
Great service
edelkrone was super responsive and sent me a new cable.
BA
04/13/2020
Brice A.
United States
Sony Shutter Cable
Works perfectly.
03/29/2020
Cliff B.
Canada
Amazing shutter release cables
Best I've ever used. Photos turned out amazing!
02/22/2020
Mark T.
United States
The only thing which wroks
Outstanding now if you can get the rest of my kit to work.
02/13/2020
Frederic L.
Canada
Slider Plus pro Long w/Slide module v2.
I love my new equipment from edelkrone. I notices that the camera is wobbling a bit, but not enough to be noticeable on screen. That been said, I have to say that the screw provided with the Sony NP-F Battery Bracket are not long enough that attach firmly the item on the Slide module V2. Can you send me two longer screw. (Meanwhile I have to hold it with an elastic ;(. It s not convenient. Thank you. Frédéric Lavoie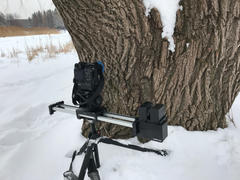 PR
12/18/2019
Prawich R.
Thailand